Asset Performance Management Consulting Services
Asset Integrity and Reliability
Our asset reliability services help clients spend less on maintenance while improving equipment asset reliability. We use a proven methodology that focuses on maintenance workflows, including reactive and proactive practices, and their impact on critical asset uptime.
Enterprise Asset Management
Our comprehensive EAM strategy planning and process consulting includes assessing your organization's current situation to identify areas for improvement and opportunities for return on investment, and preparing multi-year asset management strategies. An EAM assessment will provide the foundation for developing the necessary improvement plan required to achieve and exceed your business objectives toward operational excellence. See how EAM solutions and compatible HSE asset management modules can create safer, more sustainable work environments.
Detailed Process Performance Assessment, Gap Analysis, & Recommendation
The purpose of a holistic operational assessment is to evaluate the as-is operations and maintenance processes and to identify the opportunities which may exist within the facility. The findings will be the basis for the development of activities to close performance gaps, standardization, and improving the overall business processes.
The first step (as-is review) is to determine the adequacy and effectiveness of the existing Management Business Processes. The result shall then be used as the foundation for driving improvement changes towards industry proven and practical best practices for with the emphasis on sustainability and culture change.
Strategy Development
A comprehensive operations strategy is a critical element to driving business success. Strategic planning and development are critical for any organization to be successful. The management of assets of a facility is vital for achieving their organizational and corporate goals and objectives. Strategies are developed based upon scenario analysis that includes measurable objectives and the expected economic, environmental, and social performance of the organization's asset portfolio using commonsense and practical approaches. Erudite partners with leadership to develop improvement strategies based on performance gap analysis and utilizing best-in-class processes.
Maintenance Work Management Best Practices
Optimizing maintenance workflows is at the forefront of every maintenance leader's mind, but achieving that goal isn't always easy. An average maintenance team spends 24%-26% of their day walking to and from a job site. Another 18% looking for tools and materials. Maintenance Management best practices helps you to understand how to set standards and procedures for your team, how to implement and track these to ensure optimal performance, and how to continuously improve upon these
processes. This includes:
• Identifying & implementing best practices
• Understanding process flow to lean-out the non-value-added tasks
• Defining processes, procedures, & standards
• Establishing the right KPI's or measures
Balancing Maintenance with Operations
When working and executing in harmony, Operations & Maintenance should have a significant impact and benefit across the organization. These can include:
• Help with budgeting by controlling costs associated with inefficiencies
• A reduction in equipment downtime
• An increase in availability
• Improved quality
• Efficiency improvements by increasing Ops and Maintenance utilization
• Improved customer service levels
• Profitability
• Most importantly, Safety
Storeroom Management / Supply Chain
An average MRO Storeroom has 58% of their materials never issued in over three years. Of the remaining 42% of "active" inventory, 60% of that is overstocked. Multiple reasons for this and not all materials over three years are obsolete. With our MRO Storeroom assessment, we strategically identify the truly obsolete materials taking up space, establish proper min/max levels, develop processes and procedures that tactically ensure we are managing the company assets, and strategically define what is the right inventory levels to ensure we are managing risk by having the right parts at the right time in the right quantity to the right specifications.
SPECIALIST CONSULTING
MMS has a collective experience providing high quality specialist advice and consulting for more than ten years to organizations across different industries. The technological world today presents tremendous challenges to engineers and technicians in keeping up to date and taking advantage of the latest developments in the key technology areas. We pride ourselves on being the premier provider of practical and cost-effective engineering solutions.
PROFESSIONALLY STAFFED
MMS consists of an enthusiastic and experienced team that is committed to providing the highest quality in consulting services. The company has a pool of consulting engineers; quality focused support staffed, as well as vast recourse base of specialists in their relevant fields.
CLIENT FOCUS
MMS independence and impartiality guarantee that clients receive unbiased advice and recommendations, focused on providing the best technical and economical solutions to the client's specific and individual requirements.
Predictive Maintenance Services
Vibration Measurement & Analysis
Lube oil Analysis & Bearing lubrication maintenance.
Vibration Analyzer & Calibration (Sales & Service)
Vibration Sensor (Sales & Service)
Infrared Thermography
Laser Alignment
In-situ Dynamic Balancing.
Motor Current Analysis
Vibration Analysis Professional Training & Certification.
Asset Management
Asset Management Best Practices Assessment
Asset Management Best Practices Program
ISO 55000 – Strategy Asset Management Plan
Risk Management
Asset lifecycle management
Asset information and knowledge
Business Processes Mapping
Integrated Management Systems
Asset Commissioning Turnover Documentation Management and Processing
Critical Process Parameter Documentation and Analysis
Long-Term Capital Planning Optimization
Asset Performance Trending and Analysis
State of Good Repair Analysis and Backlog Development
Operational Excellence
Operational Excellence Program
Key Performance Indicators and Reports
Overall Equipment Effectiveness
Continuous Improvement
Innovation & Lean Thinking
Six Sigma
Operator Driven Reliability
Root Cause Analysis
Project Management
Reliability Maintenance Management 
Reliability Maintenance Practices Program
Asset Walk downs and Decision Matrix Application
Hierarchical Asset Structure & Asset Prioritization
Risk Based Maintenance Program Development
Reliability Centered Maintenance
Asset Life Assessment analysis
Proactive Maintenance Optimization
Existing CMMS PM Data Normalization and Standardization
Spare Part List Development
Spare Prioritization/Critical Spares Identification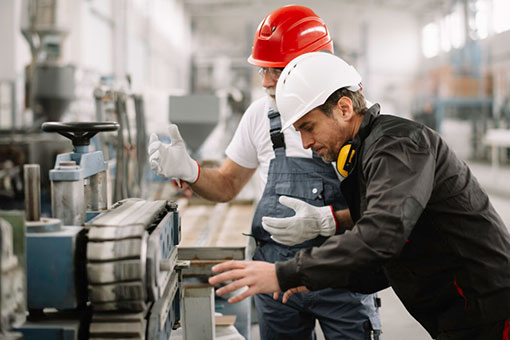 Digital Transformation
Data Driven Decision Making
Digitization to Digital Processes
Performance Dashboards Development
Business Intelligence to support Digital Processes
Planning and Scheduling
Alarm, Alerts and Predictive Processes
Enterprise Asset Management System (EAMS)
IIOT Sensors
Remote Monitoring & Diagnostics